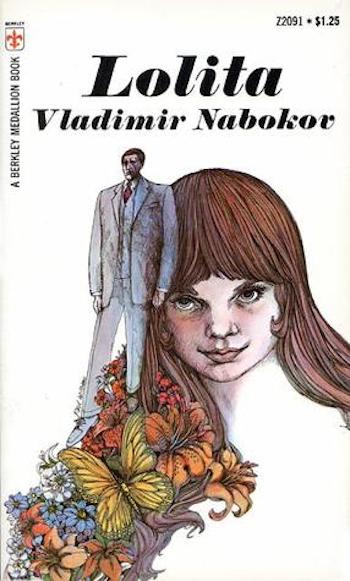 Oh yes, I've chosen this book for my blogs very first book club pick. You cannot stop me now.
For those who don't know what this book is about. This book is about a middle aged man who is in love and obsessed with a 12 year old. It's a bit weird and uncomfortable to talk about, but it's important to read this piece of history and see what we, as the reader, can take away from this book.
Vanity Fair called this book, "The only convincing love story of our century."
It's weird to ask why a love story of a middle aged man falling in love with a twelve year old is the only convincing love story of the century. There must of be dozens of romance novels that prove otherwise.
It's also interesting to note how book publishers have publicized this book as a "classic story of the aging Humbert's obsessive, devouring, and doomed passion for the nymphet Dolores Haze." Why call Dolorez a nymphet and not a minor?
First of all, I would like to set the record straight and say that I have never read this book. I chose this book because I'm interested as to why this book is considered as a classic and as to why is this book must be read by every single person on this planet. It's also a book that is known to push the boundaries of what literature is.
We are also reading a banned book. This book was banned in England, Australia, Burma, Belgium, Austria, and even some cities in the United States in the 1950s.
Synopsis from the publisher:
Humbert Humbert – scholar, aesthete and romantic – has fallen completely and utterly in love with Lolita Haze, his landlady's gum-snapping, silky skinned twelve-year-old daughter. Reluctantly agreeing to marry Mrs Haze just to be close to Lolita, Humbert suffers greatly in the pursuit of romance; but when Lo herself starts looking for attention elsewhere, he will carry her off on a desperate cross-country misadventure, all in the name of Love. Hilarious, flamboyant, heart-breaking and full of ingenious word play, Lolita is an immaculate, unforgettable masterpiece of obsession, delusion and lust.
About the Author
Nabokov was born to a wealthy family in Russia.
Nabokov's dad was a popular writer at his time as he was the leader of the pre-revolutionary Liberal Constistutional Democratic party and wrote many books about criminal law and politics.
Nabokov wrote this book in english and then translated it himself into Russian.
He was didn't like women writers and Jane Austen in particular until he read Mansfield Park and taught it in his class.
Friendly Reviews
From Amanda:
Lolita, novel written by Vladimir Nobokov, concerns itself with a taboo love obsession that may almost disgust you while reading. The novel is split into a preface, two parts, and the authors annotation. A literature professor in his thirties, Humbert, fixates and obsesses over 12 year old, Dolores Haze. Interestingly, the novel begins with a fabricated editor who explains that the story was given to him by Humbert's lawyer while he was in jail, and soon after passed away in prison.
I think a huge aspect of why this book remains so widely known and popular is due to its controversy between readers. Some just cannot conceptualize why anyone would willingly read a book about a sick love obsession for a child, while others are drawn to the writing, and the way they attempt to rationalize Humbert's disturbing mental state.
Where to find it:
You can find this book on Amazon for $12 or you can get the ebook version on Apple Books or Kindle store for $12.
You can also find this book in your local library.
How to join the book club
Anyone and everyone can join this book club. This book club will all be moderated online, on this very blog. There will be no reading schedule for you to follow. You read at your own pace, and once you've read up the amount of pages required per blog post, you are welcomed to join to read the commentary, join the conversation down in the comments, and release your own thoughts in regards to the book.
For example, in a couple of days I'm going to publish a blog post and I'm going to put a warning that you could only read this post until you've reached paged 45. In that blog post it will be commentary on the book from pages 1-45.
There will also be published content on the book itself where there will be no spoilers.
Thank you for joining the book club and this Saturday, January 1st, expect a blog post on Lolita for pages 1-89/Chapters 1-20.